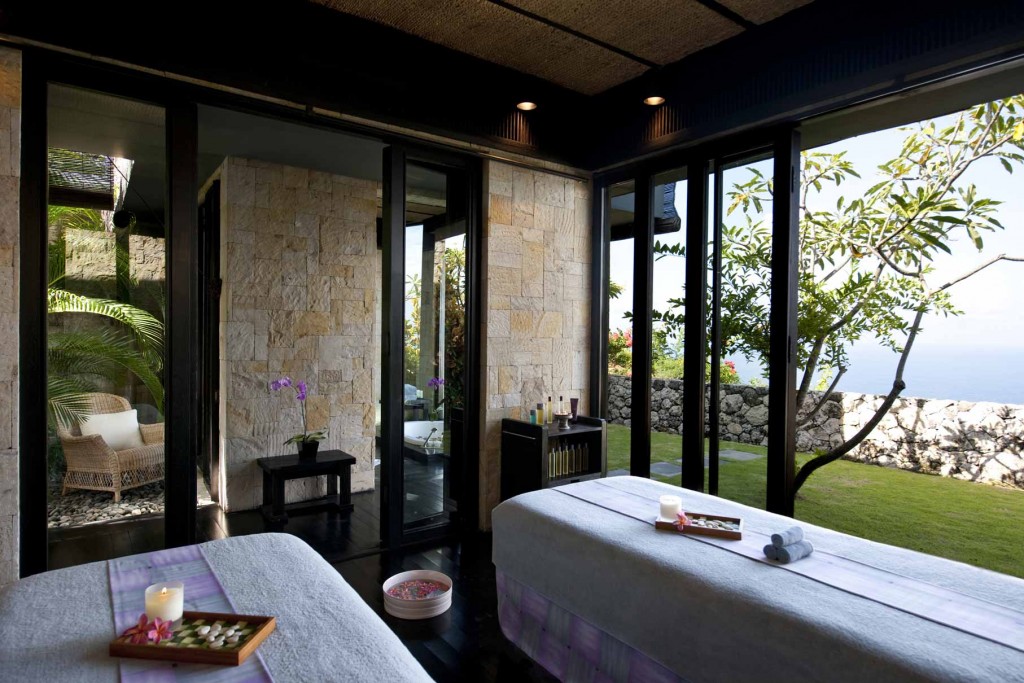 [vc_row][vc_column][vc_blockquote type="type1″ border_color="#85B209″]
Bali is home to an abundance of excellent and lavish spas, and among the most impressive of these is The Spa, located at The Bulgari Resort Bali. This oceanfront spa is aesthetically designed with a blend of traditional Balinese elements and contemporary style. The Spa accommodates 6 fully equipped treatment rooms and 2 royal pavilions with outdoor gardens, outdoor rain showers and plunge pools.
[/vc_blockquote][vc_column_text]
The philosophy at The Spa is based on their unique concept of space and services using traditional Asian traditions and techniques that are combined and enhanced with modern practices. The Spa menu features a complete range of Balinese, Asian and European therapies using natural ESPA products. Perhaps one of the most alluring treatments here is the Summer Essential, specially created to indulge the senses with a pace and stillness that only a breathtaking cliff-top spa overlooking the ocean can offer.
The Summer Essential is a head to toe two-hour treatment including foot wash, detox seaweed bath, ESPA hip and thigh treatment, together with an express facial. After one is given a detoxifying salt scrub and bathed in detoxifying seaweed bath for 10 minutes, the therapist begins a combination of regular massage techniques, finger knuckles and two fingers pressures to create a deep tissue massage aiming to eliminate and burn the cellulite around the hip and thigh. The express facial uses ESPA and is finished off with a lift & firm mask and it was this that completed my Summer Essential. Before leaving The Spa, I was indulged at the open-air relaxation lounge in front of the swimming pool with a calming background of the Indian Ocean. A lemongrass tea and special homemade ginger and coconut cookies accompanied me through this relaxing time. It was all just so sublime!
Jalan Goa Lempeh, Banjar Dinas Kangin, Uluwatu, Bali
Tel. +62 361 8471000
www.bulgarihotels.com