Who doesn't love cocktail hour? It's a pause moment when you can take a break, relax and share a refreshing drink with your loved ones or friends.
We asked our fellow experts, connoisseurs, and bon vivants to vote for some of their favourite spots to unwind while savouring masterpieces from the world's best mixologists amidst breath-taking backdrops.
So, why not leveling up from your usual cocktail hour at these gorgeous resorts. Here are a handful of our picks – enjoy this sip of travel!
The Sanchaya: The Decanter
The Sanchaya's glass-walled cellar and wine and cheese tasting realm, called The Decanter, boasts sea views and showcases hundreds of bottles of premium and discovery wines, including a certain 2000 Château Mouton Rothschild 5L flask (numbered 0039/5000). This remarkable bottle of red ranks as the Pauillac estate's priciest wine of the past 30 years.
The Sanchaya had four of only 5,000 ever produced until a group of guests recently uncorked one of them; thus only three remain at the estate. And the bottle in itself is a collector's item, adorned with a gold reproduction of the Augsburg Ram, a chased silver-gilt drinking vessel created around 1590 by master goldsmith Jakob Schenauer.
Foodies will delight at The Ultimate Sommelier's Table experience, whereby the group will be invited to join Estate Sommelier, Jeroen L'abèe, hailing from The Netherlands. Jeroen started his career over two decades ago as restaurant manager and sommelier, working for Michelin restaurants, Relais & Châteaux in his homeland as well as in France and now Indonesia. He delights The Sanchaya's guests, with his wine tastings and delectable wine and cheese pairings. He has developed exceptional Champagne menus with the estate's culinary team, and is significantly expanding The Sanchaya's collection.
During their stay, guests can also opt for a sumptuous beach BBQ prepared by a private chef, in addition to an indulgent in-villa cocktail party. The Sanchaya's world-class mixologists will build, shake and stir signature cocktails with rare, carefully selected spirits and liquors (including regular's favorite, Vesper Martini), recreating the ambience of 19th century European salons and private estates. "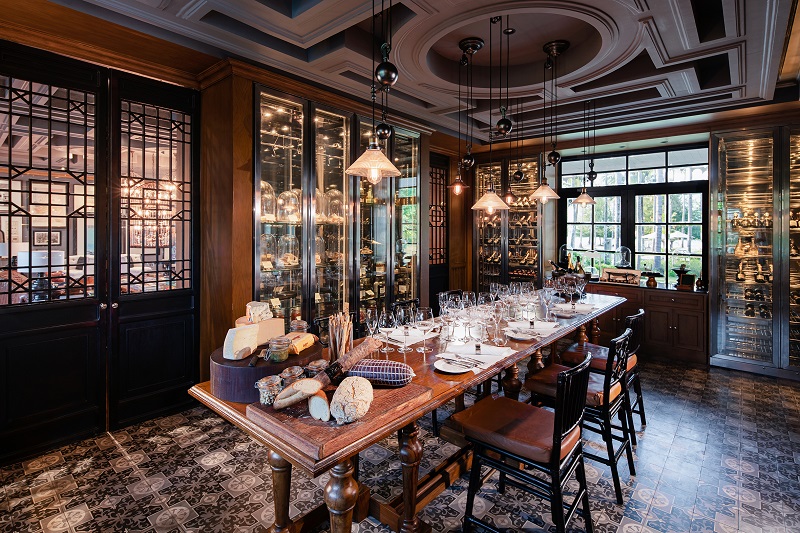 The Datai Langkawi: The Beach Bar
A place to enjoy a convivial and truly friendly atmosphere, The Beach Bar, with its shaded seating area under trees, overlooks the turquoise Andaman Sea with Tarutao Island in the distance. Guest can spend the day here swimming in the pool or sea, and there are plenty of deckchairs for a read or a nap, allowing you to switch off or tune in to all that happens in this gorgeous beachfront spot.
The Beach Bar is the perfect place to sip The Datai Langkawi's signature cocktails, "The Butterfly Cocktail", while watching the beautiful sunset.
The Butterfly Cocktail has been inspired by the magical metamorphosis the butterfly goes through, from its inconspicuous form at birth, to finally emerging as a colourful and shimmering plant pollinator. The Datai Langkawi's mixologist Katy uses the resort's own The Datai gin to create this enchanting cocktail. Watch how the colour of this concoction changes from pale blue to a beautiful lavender purple when you pour the Elderflower syrup mixed with lime juice into your glass of gin mixed with butterfly pea flowers with Cointreau Liqueur.

The Datai's gin has a herbaceous and spicy foundation that's uplifted by the addition of citrus, namely sweet orange and grapefruit peel, as well as coriander. The gin's herbaceousness comes from the addition of wormwood, an ingredient better known for its use in absinthe, and gentian, a root acclaimed for centuries for its medicinal properties. To this base, the team has added flavours of the maritime spice route, including cinnamon and nutmeg, which leave a pleasant warmth to the spirit. The gin is harmonised with a touch of Florentine iris root, also known as orris, a plant native to Italy that's famed for its violet aroma. The team naturally macerates these hand-selected botanicals in a base spirit before distillation to ensure a smooth, warm spirit filled with complex flavours and aromas. Once the heart – the very best part of the distillate – is collected, demineralised water is added to sooth the spirit and prepare it for bottling.


Pimalai Resort & Spa: Seven Seas
Pimalai Resort & Spa has been redefining private sanctuary – it's here that guests while the days away lounging on what often feels like a private beach.
A smattering of local bars and restaurants line the beach, but its Pimalai's onsite eateries that tend to steal the show. Seven Seas, the fine dining restaurant in Pimalai Resort & Spa offers beautiful ocean views to accompany your cocktail hour.
With no immediate neighbours, the 121-room resort is a serene getaway where guests can feel completely at peace in their private surroundings. In keeping with Koh Lanta's low-key, laid-back mindset, Pimalai Resort & Spa offers guests from all corners of the globe the opportunity to savour a truly authentic Thai island experience and to savour their signature cocktail, Purple Chour Moung. It's a delicious cocktail made of rum, Malibu rum, blue curacao, pineapple juice, coconut milk, lime juice and grenadine syrup.