Perched on the topmost level of Jumeirah Bali, the signature restaurant AKASA places diners in the midst of nature, sea and sky with awe-inspiring views across the island's gin-clear waters and romantic sunset panoramas.
Inspired by the Majapahit era, the golden age of Java, the elegant venue invites guests to relax on the terrace over a sunset drink or the exquisite dishes from Chef Joan Achour, a talented French chef who joined AKASA from Jumeirah Maldives and, prior to that, Jumeirah Mina A'Salam in Dubai, bringing with her years of experience working at the finest restaurants in Europe. Inside, guests will find a refined ambience evoking a stately banquet hall where a royal Javanese family would entertain an intimate group of friends amid the splendour and royal ceremony.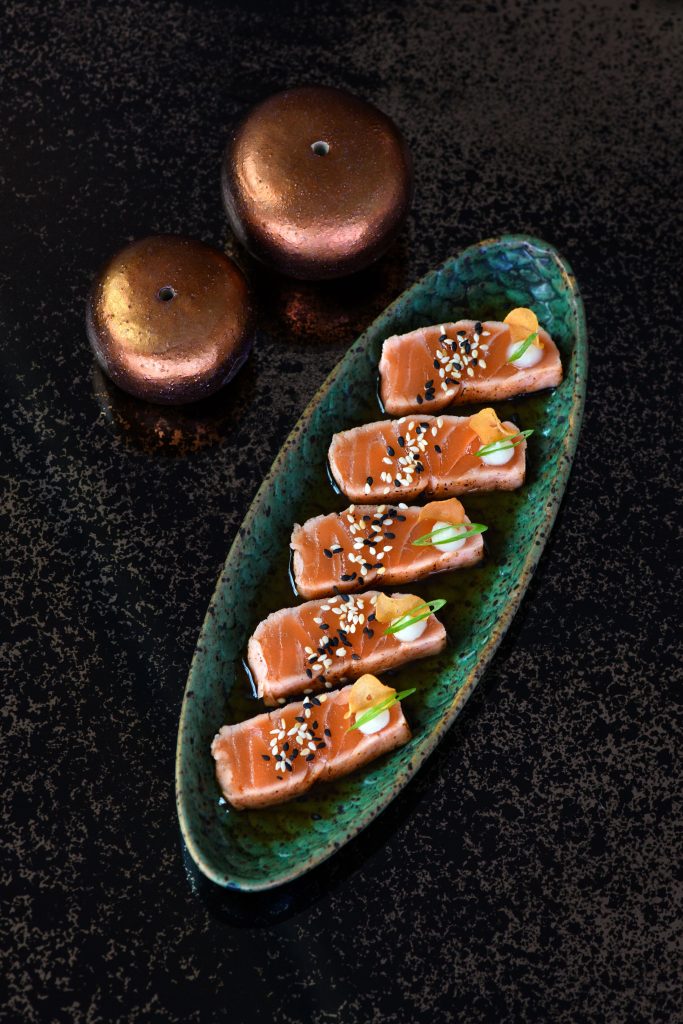 AKASA's Asian fusion menu delights with rich, smoky flavours of Bali while referencing Thai, Japanese and Korean cuisines as well. By focusing on dishes that are perfect for sharing, Chef Joan pays tribute to Bali's time-honoured tradition of serving family-style meals on large platters and inviting everyone to help themselves. Starting with a crudo selection that includes flame-grilled tuna tartare with Timut pepper and Peruvian-style whitefish ceviche drizzled with Nikkei leche de tigre, the menu unfolds to offer nourishing dishes of Bali cooked over an aromatic, wood-fired flame with impeccable produce sourced from across the country.
To whet their appetites before the main course, guests can begin with a plate of grilled Jimbaran prawn; lobster with lemongrass, kaffir, ginger and wasabi mayo; fresh oysters; or take their pick from the robata selection that includes kimchi prawn; chicken with fiery panca paste and burnt cumin; and seared teriyaki lamb. Chef Joan's mains are an inspired showcase of the bounty of the sea with hero dishes to include giant tiger prawns with Thailand-style sambal; whole scallop with red bean cream; and local sea bass cooked in a banana leaf with grated coconut, turmeric, mustard seed and lemongrass.
Steak lovers, meanwhile, shouldn't miss the chance to try AKASA's outstanding dry-aged beef selection ranging from premium US and Australian tomahawk and wagyu T-bone cuts that are perfect for sharing to individually-portioned wagyu ribeye and tenderloin steaks, all aged for at least 25 days in a controlled, closely watched, refrigerated environment to increase the beef's tenderness and flavour. Accompanying the steaks are BBQ, chimichurri and truffle teriyaki sauces, as well as a selection of premium peppercorn varietals, including citrusy Lampung pepper from Indonesia, Vietnam's Phu Quoc peppercorns, Timut variety from Nepal, and others.
Desserts are another major draw. Pandan crème brûlée with homemade kaya jam masterfully marries French cooking techniques and local ingredients, as do the manjari namelaka chocolate sphere with raspberry compote and raspberry lime sorbet, and a selection of ice cream flavours ranging from chocolate and vanilla to ginger and sesame. The food menu is complemented by a vast wine selection from AKASA's underground wine cellar accessible via a glass elevator, while a musicologist takes care of live music programming every night.
An extensive cocktail menu offers a nostalgic trip into a dreamlike Balinese landscape with concoctions inspired by the stories, characters, locations and history of the great Majapahit empire. The tequila-based 'The First King' is a fresh tropical cocktail flavoured with pineapple, peach and cinnamon that tells the legend of Ken Arok, the founding king of Majapahit. With its aroma of zesty mandarin, tropical pineapple and earthy coffee, 'Nusantara' is AKASA's take on the classic espresso martini, its name borrowed from the ancient Javanese term referring to the territories that belonged to the great Majapahit empire. Delicious and bitter, Gajah Mada is the perfect whiskey- and Campari-based aperitif named after the 14th century military leader and national hero credited with unifying the entire archipelago.
AKASA at Jumeirah Bali is open daily from sunset till 23.00. For more information and to make a reservation, please visit www.akasarestaurant.com, email jbafbreservations@jumeirah.com or contact +62811 3891 1620.