When it comes to a weekend ritual, nothing beats a Sunday Brunch session. It is indeed a delightful time when adults have the chance to enjoy a leisurely meal, have a tasty wine or other alcoholic beverages while kids can savor delicious kids meal and be entertained. The atmosphere is always lively and fun for all ages.
The reopening of the island's two most sought-after Sunday Brunch, Brunchcation at The Apurva Kempinski Bali and Brunch Infinito by Prego at The Westin Resort Nusa Dua, Bali is a fantastic addition to your Sunday Brunch must-visit list.
Both resorts are committed to ensuring the safety of both their guests and employees by implementing New Normal protocols within the premises. Wearing a facemask is mandatory upon arrival and a quick body temperature check will be done at the hotel lobby before heading to the restaurant. All surfaces are treated with a thorough and frequent cleaning, in addition to placing hand sanitizer dispensers in several areas. Dining tables are spaced based on the social distancing protocols, where each of them comes with limited seats for small groups.
We have selected two of the best Family-Friendly Sunday Brunch Spots in Bali to help you decide where you'll be heading this weekend.
Brunchcation at The Apurva Kempinski Bali
Brunchcation at The Apurva Kempinski Bali offers a full-day experience to further indulge your day off. The vast buffet is highlighted by flavors from the around the world, with lavish offerings from Koral Restaurant and the Japanese restaurant, Izakaya by OKU, served at Pala Restaurant from 12:00 noon to 15:30. With a special variety of cheese and delicatessen from the talented head baker of the resort, along with an exotic seafood station, a live grill station and an authentic Indian station, as well as fresh sashimi and sushi rolls, diners can expect a wide range of live stations. An amazing selection of dessert is presented to finish the dining experience on a sweet note, with both the local delicacies of Indonesia and foreign pastries that will delight your sweet tooth. The experience doesn't stop there. Having a Brunchcation means guests are having some uninterrupted family time at the resort, a perfect way to indulge with the little ones. Indulge in the 60-metre pool, and let your children play on exciting water slides at the kids' pools. In addition to that, watersports such as kayaking and stand-up paddle boarding is available for further action. www.kempinski.com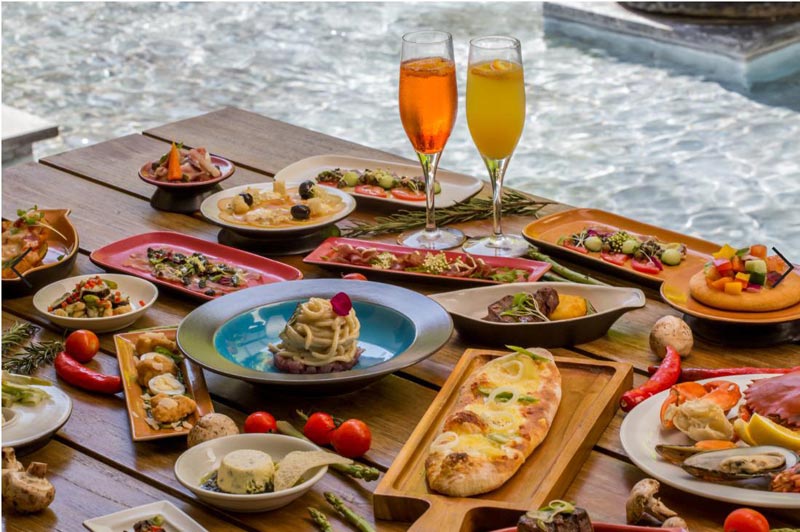 Brunch Infinito by Prego at The Westin Resort Nusa Dua
The Westin Resort Nusa Dua, Bali is delighted to announce the reopening of its Brunch Infinito at Prego. Celebrate a tropical summer break with an authentic Italian Sunday brunch starting at 11.30AM. Brunch Infinito is a great way to enjoy flavourful food and live entertainment for the whole family. With access to the swimming pools and beach lounge area at Westin, guests can indulge the refreshing lazy day out while the little ones can take part in safe activities supervised by the Westin Family team. The menu offers energetic yet elegant meals, with a generous selection of hot and cold meals, an antipasto counter, fresh seafood on ice, grilled meats, pasta and pizza cooked to order plus a whole dessert station of tasty sweet treats. The Brunch Infinito also introduces a new enlivening dining experience at Prego, where guests will witness the pleasure of specialized Guéridon service as part of the à la carte menu. Not to mention Prego brings fun and leisurely family-friendly brunch with a selection of free-flow drinks. www.westinnusaduabali.com