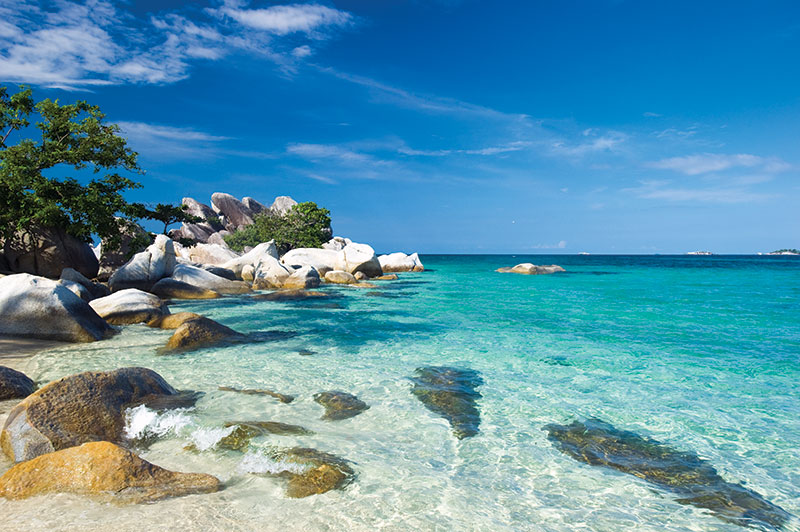 Belitung Island has a unique shore landscape where huge granite boulders emerge majestically out of crystal clear water into blue skies. Situated on the east coast of Sumatra, this island is one of Indonesia's gem destinations.
Pristine white sand beaches overlooking a turquoise sea of great snorkelling sites and a fantastic display of offshore islands have gained Belitung its worldwide recognition as a much visited holiday destination, especially for those seeking an alternative from the mainstream vacation islands around Indonesia. Belitung maintains a laid-back tropical ambience without any of the ritzy neon fizz of nightclubs and party venues that come with the Western influence of so many Island resorts.
Located off West Indonesia, Belitung has remained under the radar for a long time. It was not until the epic Indonesian movie Laskar Pelangi was filmed on location a couple of years ago when the island's unspoiled natural beauty was perfectly framed in the movie that drew it to the attention of travellers from around the world. Belitung can be reached by sea or plane, and it is advisable to access the island from Pangkalpinang on Bangka, Belitung's neighbouring island. It is easier this way than taking the route from Jakarta. A little interesting fact about Belitung is that it was formally the home of a tin mine run by the Australian giant BHP Billiton from where the island's name, as a result of a local twist of speech, Belitung came from.
The best time to visit and enjoy the good aspects of Belitung is during the dry season from April through to December. This is the time when the sun shines, cool afternoon sea breezes waft off a calm sea where reefs and surrounding islands are colourfully visible and island cruising is a joy.
Two of the finest beaches to visit at Belitung are Tanjung Kelayang and Tanjung Tinggi. Here a peaceful tropical ambience of sun, sand and sea can be enjoyed without the commercial over catering found on other sandy shores. Most of the hotels and inns are located at Tanjung Pandan city on the West side of the island. It is a small city with adequate facilities and has several points of interest of its own including a museum, an interesting harbour and a beach with its attendant fresh seafood restaurants.
Aware or not of Belitung's charms, it is without doubt one among the most beautiful islands in Southeast Asia. Here the laid-back atmosphere and panoramic scenery make this island a great holiday destination for those seeking something rather special for their holiday destination.