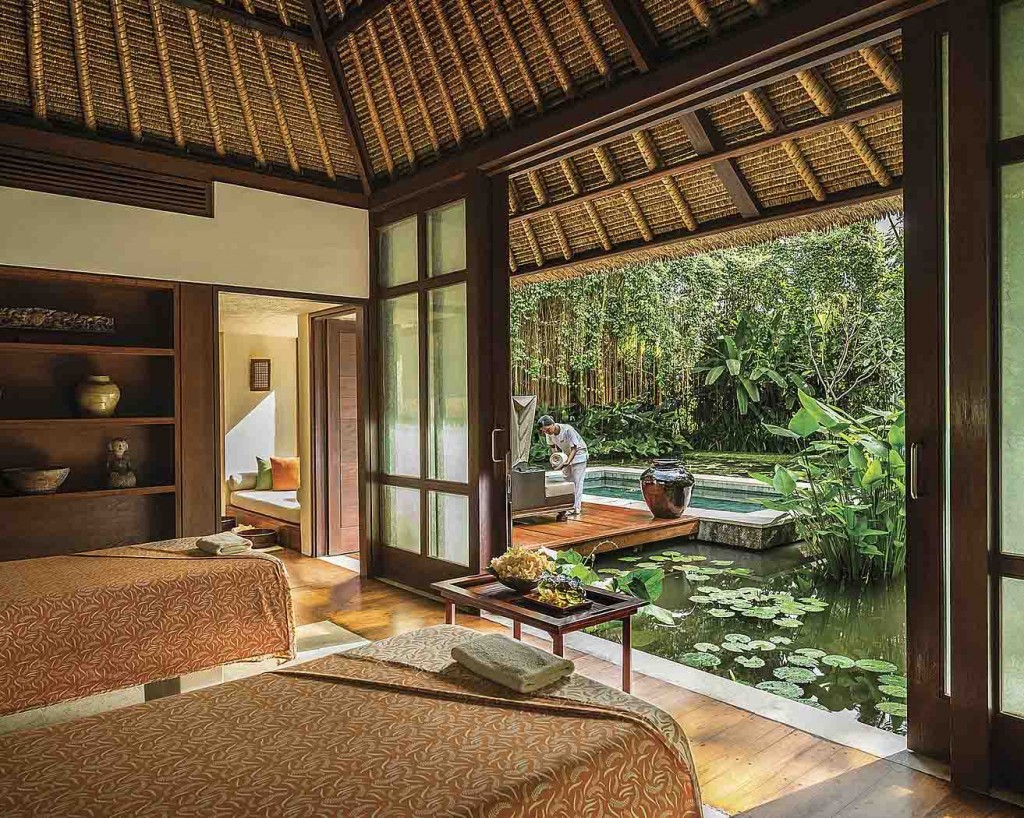 [vc_row][vc_column][vc_blockquote type="type1″ border_color=#85B209]
Ubud is one of Bali's better-known cultural centres and so it is no surprise that it plays a highly recognized part in the island's reputation for the provision of quality spa treatment services. The Spa at Four Seasons Resort Bali at Sayan has become a popular destination for spa aficionados. Here treatments are directed towards physical relaxation and internal peace of mind.
[/vc_blockquote][vc_column_text]
Embracing authentic Balinese healing traditions the treatments at this spa focus on balancing the body's chakras. Regularly cleansed chakras, it is believed, will operate at optimum levels so creating harmony between physical and emotional states.
One of their spa's signature treatments is Muladhara, which is based on the notion that the root chakra, located at the base of the spine, anchors us to the earth. To have a good balance in this cakra is especially beneficial to those who travel frequently, experience relocation or have moved to a new chapter in life. Muladhara is all about creating a profound inner peace and freeing one to their full potential.
This 120-minute treatment combines several steps and is started with a foot wash. This is followed by a treatment known as body tapping, a treatment designed to eliminate the negative and enhance the positive. A Balinese sacred kemenyan smoke is then released to cleanse the spine while a soothing singing bowl is played before the body massage starts. The body massage involves slow and deep massage techniques using locally grown ginger and cinnamon with a blend of vetiver, patchouli and jatamansi oils. It is recommended that a shower does not directly follow the massage as the oils used continue to have a beneficial effect on the skin.
Most of signature treatments are held in a spa villa complete with outdoor shower and bath. The spa villa, surrounded by a pond creates an aspect that contributes to a sense of peaceful tranquillity. My treatment was pleasurable and well attended to by professionals and left me with an enhanced vitality.
Four Seasons Resort Bali at Sayan
Sayan, Ubud – Bali
Tel. +62 361 977577
www.fourseasons.com