ONE OF THE FINEST 5-STAR LUXURIOUS HOTELS AND SERVICED APARTMENTS IN BANGKOK, 137 PILLARS SUITES & RESIDENCES HAS BECOME THE POPULAR CHOICE FOR DISCERNING TRAVELLERS FROM ALL AROUND THE WORLD.
The hotel opened in February 2017, following the tremendous success of its sister hotel the 137 pillars House in Chiang Mai. With its sophisticated design, Thai charm and warm hospitality, the 137 Pillars Suites & Residences wins the admiration of its guests as soon as they walk through the front door. The property is conveniently located in the Sukhumvit area and within easy reach of the Emquartier luxury shopping district with its extensive facilities for leisure and business visitors and long staying guests.
Inspired by the original designers of 137 Pillars House in Chiang Mai, this luxury boutique hotel offers guests a selection of 34 sumptuous suites on the upper levels of the property and 179 serviced apartments.
137 Pillars Suites
34 Luxurious Suites ranging in area from 70 to 127 square metres include 12 Sukhothai Suites, 18 Ayutthaya Suites, 2 Thonburi Suites and 2 Rattanakosin Suites, all of which are located on the top 6 floors of the building. They have exclusive around-the-clock access to the rooftop, the iconic 360-degree infinity pool, the Skybar and cabanas and privileged access to the Baan Borneo Club lounge on the 26th floor.
137 Pillars Residences
To satisfy the demand for luxurious residences in the heart of Bangkok, 137 Pillars Residences offers 179 serviced apartments for both business and leisure visitors. Each comes with its own fully fitted kitchen, a balcony with a coffee table and chairs and complimentary high-speed Wi-Fi, all studios and one and two bedroom units are designed to provide the ultimate living experience. Their comprehensive range of services includes housekeeping services and 24-hour in-room dining.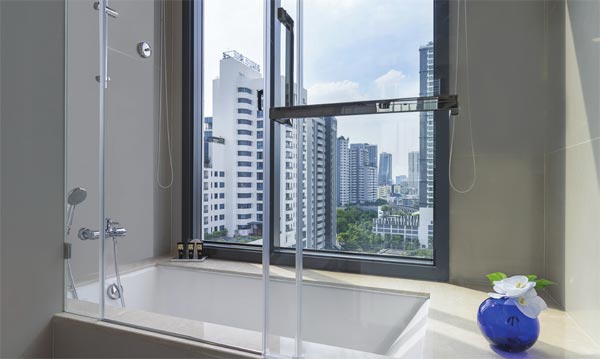 137 Pillars Suites & Residences Bangkok offers gourmet cuisine in their signature Baan Borneo Club, Louie's Tiffin Grill, the Jack Bain's Bar and Cigar Divan, and the exquisite Nimitr speciality restaurant featuring cutting edge progressive Asian cuisine created by Chef Nanang Prasetya Aditama and Nimitr Terrace, a favourite sundowner with a selection of delicious cocktails and views of the city.
Also included as part of the extensive list of services that the hotel provides are the 137 signature dining and picnics by design, a personal shopping service and guide, privately curated and customised tours and golf practice putting and chipping with personal trainers for both on request, a good size garden where kids can play and a meeting place.
The 27th floor has late check-out and early check-in pods and separate shower facilities in the event that rooms are fully booked.
Created in 2017, a range of spa treatments, including the 137 Pillars Hotels & Resorts Sleep by Design Therapy, are available at Nitra Spa and Wellness centre. The Fitness Studio is provided in order to accommodate those who would like to do exciting activites including Yoga, Meditation