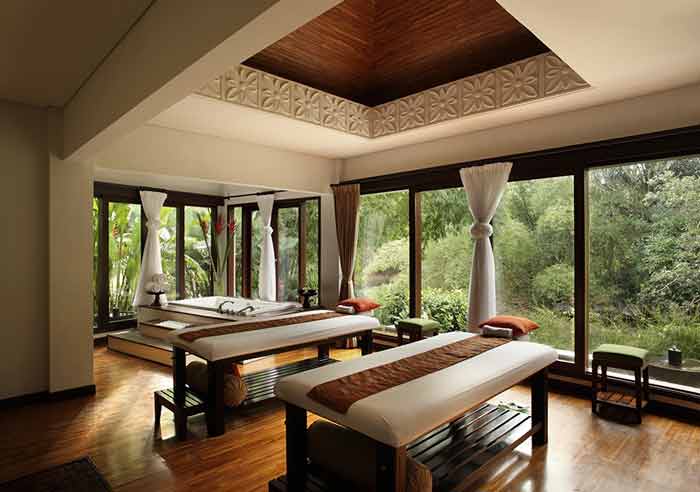 Nestled in the lush natural beauty of Sayan, Spa at The Samaya Ubud is an elegant retreat for those seeking a little R&R away from the hectic rush of city life.
Spa at The Samaya Ubud is set ajust a few steps from the Ayung River where it provides a selection of pampering spa treatments that will rejuvenate both body and mind.
I decided to have the eternal bliss, a 2.5-hour head-to-toe treatment, which began with a Samaya foot ritual that cleansed with warm lemon water then a rub with cinnamon salt and followed with a peppermint spray. Next came the spa's warm lime lemongrass oil and rose petal massage. This medium pressure massage worked well to ease away muscle fatigue and diminish tension.
The treatment continued on with a Royal Javanese Lulur (scrub) comprising of rice, turmeric and fragrant cendana wood powders and finished with yoghurt mask. The benefit of these ingredients is to remove dead skin cells, cleanse and increase circulation and thus creating a soft glow to the skin.
After all this I was treated to a milk bath in the spa's Jacuzzi before progressing to their fresh traditional facial. The facial started with an aloe vera cleanser, followed with an aloe vera peeling mask, fresh strawberry and honey to tighten the skin and ended with applying juice from a slice of fresh orange as antioxidant along with thinly slice cucumber over my face and neck to refresh and revive the skin.
The whole comfortable experience was most enjoyable and was enhanced by the calming background sound of running river water from the Ayung River.


// < ![CDATA[
// < ![CDATA[
//
The Samaya Ubud
Banjar Baung, Desa Sayan – Ubud, Bali
Tel. +62 361 973 606