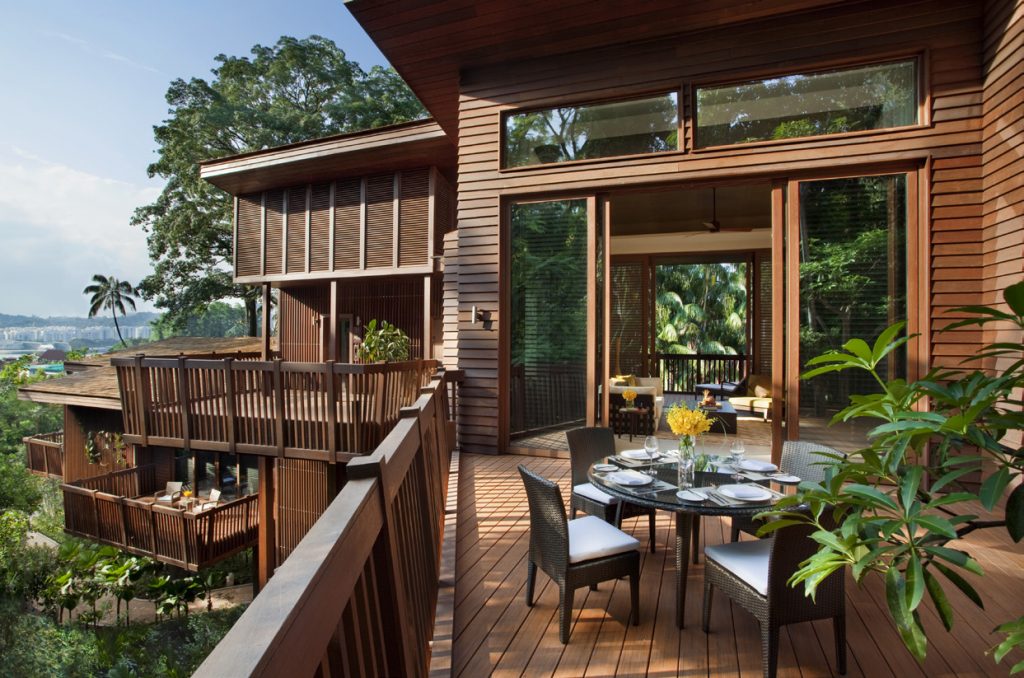 Staying at one of Resorts World Sentosa's luxurious resorts, the Tree Top Loft is like being back in your childhood. You cannot help feeling like Tarzan when you stay in this place, and the fact that your room is sitting on top of a tree reinforces that impression. Consisting of two distinctive onebedroom lofts, Angsana and Tembusu, Tree Top Loft offers a fullyfeatured luxurious nature lovers hideaway. Hidden in a canopy of native trees and perched 12 meters above the ground, the two lofts exude a sense of exclusivity and privacy.
With a spacious living room, bedroom with en-suite and a private outdoor terrace, guests are pampered with all the fivestar comforts of luxurious furnishings and a personalised butler service, while (literally) fully immersed in nature. This is a tranquil getaway and "back to nature" experience in every sense of the word, leaving your daily routine and the hustle and bustle of the city behind to move into a different universe.
STEP OUT OF YOUR MAINSTREAM LIFE AND INTO ANOTHER WORLD BY EXPERIENCING LUXURIOUS LIVING IN THE GREENERY OF A TREETOP CANOPY AT SENTOSA'S UNIQUE TREE TOP LOFT.
From your treetop perch you can enjoy breathtaking views of Mount Faber to the north and the forests of Sentosa to the
south.
You can describe the lofts as log cabins in the sky and, set on platforms supported by four columns 1.3 metres in diameter, the lofts are designed to recreate the appearance and feel of huge trees in which the lofts are perched. The building's horizontal lines contrast with the speckled shadows and asymmetrical vertical angles of the surrounding trees. Merging with their immediate surroundings, the treetop lofts make use of materials like timber for their unique design. The buildings are topped with wood shingle roofs, and the dual layered design of the roof system keeps the interiors of the lofts cool during the day.
Each loft offers 73 square metres of internal space including a living room, bedroom and spacious bathroom, in addition there are more than 90 square metres of outdoor terracing surrounding each loft. A sense of modern living but in a natural environment is created through the use of rustic natural wood-panelled walls, floors with straw-infill and 5 – 6 metre high wooden ceilings. The fully appointed bathroom has a separate bathtub and shower and is stocked with shower gels and bath salts to make your bathing experience complete while you enjoy the sound of birds chirping in the world in the treetops.
There are plenty of reasons to come and enjoy this exceptional accommodation, a calm sanctuary within the busiest of cities, Singapore, a place you would least expect it.
8 Sentosa Gateway, Singapore
Tel. +65 6577 8899
www.rwsentosa.com