Some of you may never have heard of Sanya and would not consider China when you think of a beach holiday. On the contrary, Sanya situated in the southernmost province, Hainan is home to China's best beaches and known as the 'Hawaii of China'.
Sanya offers an enticing tropical climate, chic beach resorts and fascinating cultural history. Taken together, it makes the perfect cocktail for those seeking an easily accessible island escape.
Luxury resorts are abundantly scattered on the gorgeous sandy bays lapped by the clear, warm waters of the South China Sea. Here are five of the best top-notch beach accommodations in Sanya that provide nothing but the best.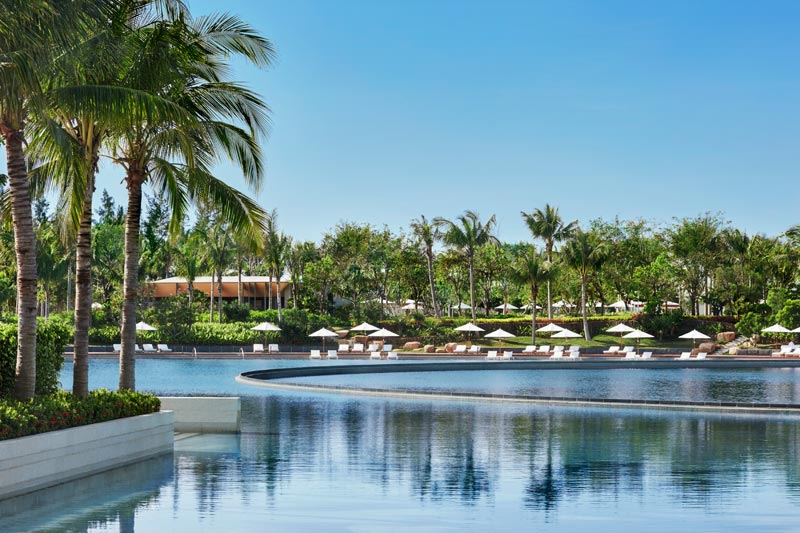 Nestled in beautiful Haitang Bay, The Sanya EDITION is a distinctive destination for luxury travellers seeking ultimate island escapes. A spectacular "private ocean" is the centrepiece of the property – from internationally acclaimed hotelier Ian Schrager – that is surrounded by secluded cabanas where guests can dine while overlooking the South China Sea. Four restaurants and two bars offer a wide array of culinary choices and variety throughout the day and throughout the property, intimate gathering places that are perfectly in tune with our times.
The Ritz-Carlton Sanya, Yalong Bay
The Ritz-Carlton Sanya, Yalong Bay offers sophisticated travellers complete immersion in a luxurious resort. With architecture inspired by The Summer Palace, it captures the essence of Sanya coastal retreat. From freshly picked tropical fruits served upon arrival to a seashell placed on the guest's pillow as a good night wish – and to let the sound of the waves lull them into sleep – no detail is too small to capture the essence of island living. 447 guest rooms and 33 private pool villas provide the ultimate in privacy, luxury, and comfort for those seeking to escape.
The St. Regis Sanya Yalong Bay Resort
The St. Regis Sanya Yalong Bay Resort lets you gaze upon glistening blue waters, lush green palms and gentle mountainsides, a true little corner of paradise. This magnificent estate sits next to a marina and a protected mangrove forest to immerse you in natural beauty, while you can connect with water through a dip in our pools or lounge on our tranquil beach. Culinary experiences await in three restaurants and the Drawing Room where authentic, local flavours highlight tropical tastes. Iridium Spa offers distinctive and elegant customised wellness experiences, while our famed and engaging St. Regis Butlers provide flawless, personalised attention during your stay – one point of contact to answer all of your questions and meet all of your needs.
Sheraton Sanya Resort overlooking the gorgeous Yalong Bay is the perfect serene island getaway for the whole family and this 5-star resort offers everything for a fulfilling and refreshing island visit. On the dining front, there are exquisite family-friendly dining from authentic local and Cantonese fare to dynamic international and pan-Asian cuisines. With five swimming pools, resort spa and prime beachfront location, it makes for the perfect family vacation spot.
The Westin Blue Bay Resort & Spa
Sleeping in a Heavenly® Bed and enjoying 180-degree sea views over the South China Sea is already a recipe for the perfect island break, but at The Westin Blue Bay Resort & Spa there's much more. Guests are just steps away from beachside activities, watersports, the world-class 18-hole championship Jian Lake Blue Bay Golf Course, as well as a few minutes' drive from the famous Nanwan Monkey Island. The hotel is also home to China's largest Heavenly Spa by Westin™ featuring Eastern and Western therapies for peaceful healing and relaxation, enabling guests to enjoy all the Westin brand's signature wellness programs and amenities.