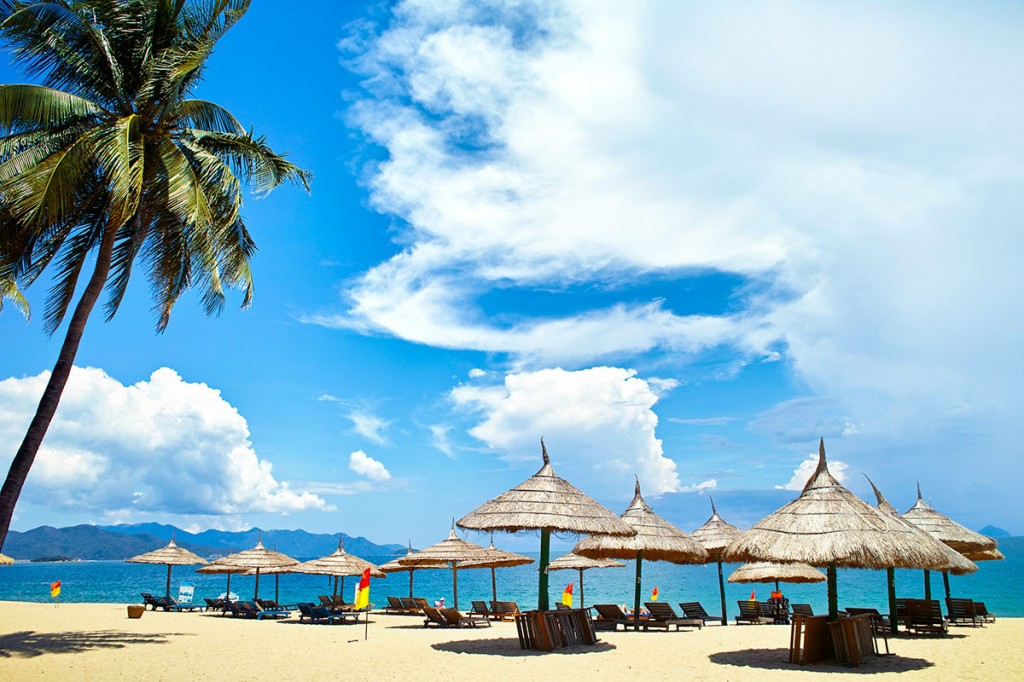 [vc_row][vc_column][vc_blockquote type="type1″ border_color="#00e3ff"]
Vietnam is not lacking for its tropical getaways. One of them is Nha Trang, a coastal city in the Southern part of the countryside. It has become well known among international tourists for its mild all year round temperatures, its international-class leisure facilities, captivating historical landscape, spectacular beaches and crystal clear ocean waters.
[/vc_blockquote][vc_column_text]
The beachfront area of Nha Trang has these last few years, been through some great improvement with added parks and sculptured gardens spread along its impressive shorefront. The local streets now present a host of dining options that have contributed to turning Nha Trang into a fully-fledged resort city. It has become one of Vietnam's most important tourist hubs and most sought-after tropical holiday destinations in Southeast Asia.
It was the French who first realized the potential of Nha Trang, with its beautiful bay and sweeping crescent beach. The city's development has continued and it eventually becomes a favourite spot for American soldiers during the Vietnam War era.
Most of the hotels and resorts in Nha Trang are built overlooking the sea, embracing the beauty of the city's white-sandy beaches, but those adventurers at heart will still have a chance to explore some untouched shorelines and amazing views. Inland waterfalls have become very popular amongst tourists and Ba Ho waterfalls have a series of three falls well-worth visiting. On the north side of Nha Trang, one can find Thap Ba Hot Spring and Mud baths which offer hot and cold water for swimming and of course the mud bath itself which is believed to promote health and wellbeing.
The most popular historical site to be found in Nha Trang's vicinity is the Po Nagar, a Cham temple tower at Cu Lao Mountain in the centre of the city. It is dedicated to the goddess of the country, Yan Po Nagar and consists of three levels. The main tower here rises to a height of 25 metres.
Just like any self-respecting resort should be, Nha Trang is city with a festive ambience and where people can come to enjoy the amusement of all-day parties that go to the early hours of morning. Nha Trang has enjoyed continued city development without letting this activity impede on its historical attractions, the beach and surrounding areas.