My next destination was Luang Prabang in Laos, a UNESCO World Heritage city. Situated in north central region of the country and now the capital city of Luang Prabang Province, this was the former capitol of Laos. With population about 50.000 people the city sits at confluence of two rivers, the Mekong and the Khan, that almost surround the city that lies beneath a temple-topped hill.
The town is small yet very charming with a serene atmosphere and palm-lined streets filled with young Buddhist monks from the many surrounding temples. Numerous shops and restaurants occupy French colonial era buildings and there is a great night market selling local crafts.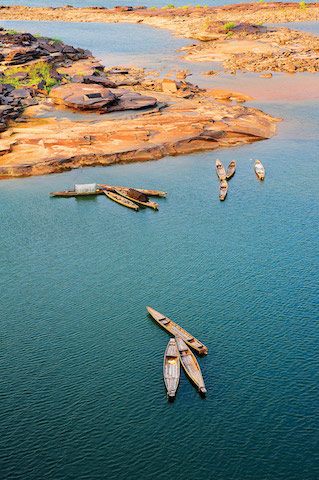 Fortunately my hotel, Amantaka is situated within walking distance of the main streets where all the major attractions are situated. These include the Royal Palace, famous temples, restaurants, boutiques and bakeries. Once a French colonial hospital, Amantaka derives its name from the word aman, the Sanskrit word for 'peace' and taka from Tipitaka found in Theravada scholastic literature, translating to 'the teaching of Buddha'. The hotel offers 24 suites ranging in size from 70 to 120 square meters.
Of all the temples Wat Xieng Thong or Temple of the Golden City is worthy of a first visit. In my opinion this is one of the most beautiful temples in Asia and also one of the most important of all Laos monasteries. Wat Xieng Thong remains an important monument to the spirit of religion, royalty and the country's traditional art.
One of the recommended eateries in Luang Prabang is Le Café Ban Vat Sene, a small but delightful colonial style café that is a perfect venue for breakfast or lunch. For dinner I chose to dine at L'Elephant; a French and Laotian restaurant set in a renovated colonial building. It was here that I savoured some of the best food in town.