" After an hour flight from Denpasar , I finally arrived at Labuan Bajo and was more than ready to explore the place . "
Labuan Bajo has changed greatly since the last time I was here 5 years ago. The new airport is bigger, more spacious and well maintained. A former fishing village on the Western tip of the island of Flores, this tiny coastal town has been transformed into a busy epicentre of tourism and the Gateway to the island of Flores and the province of East Nusa Tenggara.
I was glad that in this second trip I stayed longer and aimed to go to some of the Labuan Bajo main attractions that had not been visited before.
First is visiting Cunca Wulang, a limestone waterfall and canyon situated in foothills of Mount Mbeliling rainforest, about 30 km eastward from Labuan Bajo that can be reached an hour by car. The road leading to the waterfall is quite challenging and as soon as I arrived to the place, I walked down the stairs to get to the waterfall. Leaving early in the morning is recommended, as the weather is not that hot and indeed less people, making this trip very enjoyable. Cunca Wulang is a captivating series of fresh water pools sandwiched between high limestone cliffs. Over period of times, water has corroded some attracting formations into the cliffs, including several small, watery caves. Lower down the river, the high canyons widen out into a series of cascades that extend for many kilometers towards the bottom of the valley.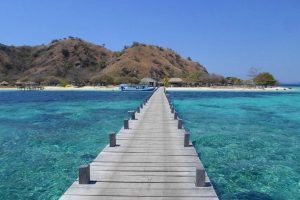 Next is Gua Rangko (Rangko Cave) can be found in a remote place of Rangko Village. To get to this cave, you can use boat from Labuan Bajo or by car or motorcycle to Rangko Village and continue the trip by local boat. I got there early in the morning when the water is low so the boat stops a bit far from the dock. Fortunately I wore my Aqua Shoes so I could walk comfortably in the ocean about 5 minutes. From the dock, you'll be able to see the beautiful mouth of cave from afar and this cave reminds me of Gua Baru Cermin which is also located in Labuan Bajo. The cave is small with high saltwater pool in the middle where you can swim. Due to high content of salt in the water make floating is very easy.
My awaited journey is the island hopping that started from Pulau Padar, a small island positioned between Komodo and RInca Islands. Arriving at 7 in the morning, I went straight to the hill to watch 3 beaches with various sand colors. On my right, the sand is white whereas black sand on my left and in front is pink sand. The view is amazing, very unforgettable. I spend some meaningful moment just sitting and admiring the surroundings.
After that was going to the amazing Komodo National Park, home of the world famous Komodo Dragon. Komodo National Park, which has been declared as a UNESCO World Heritage site and has been selected as one of the New 7 Wonders of Nature. I chose the medium track to watch this incredible creature that took about an hour across the forest and stumble upon other animals such as birds, and deer.
I spent my lunchtime at Pink Beach, one of the most visited beaches in the area due to its unusual pink colour sand and magnificent underwater life. Situated in an uninhabited area of the island, this is one of only seven beaches in the world that, due to a mixture of red and white sand, have a lovely pink hue. There were not too many people but us, so we had the island for ourselves. Snorkeling is certainly an exciting activity that you must do while in this island. The first spot is Manta Point. As the name suggests, it is the location where you can witness many manta ray with size about 3 meter. Next spot is Makassar Reef, an island close to Manta Point where you can also encounter manta ray. Name after the city of Makassar is due to its shape that resembles Makassar. The island is bounded with white and pink sand and surrounded beautiful crystal clear blue water.
That resembles Makassar. The island is bounded with white and pink sand and surrounded beautiful crystal clear blue water. Last stop is Kanawa Island, between Labuan Bajo and Sebayur Besar Island, which is also worth a visit. This untouched and secluded island has a grassy and hilly topography, a white sandy shoreline and is surrounded by crystal clear water; the reef that
surrounds the island is home to numerous species of coral, fish, turtles and reef sharks. Here, you see one of the most awesome sunsets.
A trip to Labuan Bajo and the islands of the Komodo National Park is very memorable and unforgettable. I would definitely be planning another holiday to this island soon. I realize there are many other interesting places that must be out in my bucket of list.
Article by Nina Putu