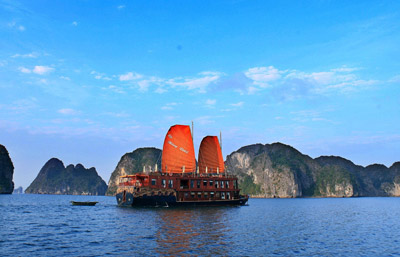 Ha Long Bay
Ha Long Bay comprises almost 2,000-limestone islets covering an area of approximately 1,500 km² and the core of the bay size is about 334 km² where a high density of 775 stunning islets can be found. About 1,600 people live in 4 different villages of 'Descending Dragon Bay' and these are sustained through fishing and marine aquaculture while living in the floating houses.
Some say that the transformation of Ha Long Bay has occurred over almost 500 million years due to different conditions and environments but the evolution of the karts in Descending Dragon Bay has taken 20 million years under the impact of the tropical wet climate. Some of these thousands of unique limestone islets have names that are mostly derived from their unique shapes such as elephant, fighting cock and roof.
The view of Ha Long Bay is absolutely spectacular; these tiny islands are dotted with beaches and caves created by wind and waves. You can explore the caves, some of which are beautifully illuminated to attract visitors. The vistas of this magical place will surely be cherished for a long time. It's no surprise that Ha Long Bay is extremely popular among locals and tourists from all over the world.
Ha Long Bay, translated as 'Descending Dragon Bay', is one of the World Heritage Sites listed by UNESCO and is included in the World's Seven Wonders. With thousands of limestone islets that come in different sizes and unique shapes, this national treasure of Vietnam is definitely one of the destinations that should be on the top of your list of places to visit.
I started my journey from Hanoi and after approximately 4 hours of driving, I arrived at Ha Long Bay to be welcomed by the Ha Long Violet crew before setting sail through Bai Tu Long Bay while a fresh seafood lunch was served. Halong Violet may be the most luxurious five-star junk in the area and it contains 6 individual spacious themed cabins; all of which face the spectacular view of Ha Long Bay.
Each cabin comes with a wooden floor, marble bathroom, Jacuzzi, LCD TV, 'Indochina' furniture style, private balcony and other five-star hotel amenities. This Indochinese style luxury junk offers quite impressive facilities from a boutique dining room library and lounge to a state of the art spa and gym services.
I entered my cabin and was presented with a stunning view of
'Descending Dragon Bay' and my frame of mind was soon transformed into a mood of meditation as it was so relaxing and calm. A different shape of astonishing limestone islet was in the view and a comfortable temperature of 22 degree Celsius put me in a very joyful mood.
The next morning, I awoke with the sight from the large glass window of my cabin of the sun that was about to rise, I wouldn't have missed this moment for the world so I got up and walked to the balcony to watch the sunrise. Before I continued on my quest, a healthy breakfast was served at the balcony; the perfect combination of great food, stunning vista and the silky breeze instantly delivered a very pleasant and divine mood.
I started my adventure by visiting the Cua Van fishing village and enjoyed a great bamboo boat trip through the village with the museum and school among the floating houses before indulging myself with a 'daily-seafood catch' and Vietnamese fusion cuisine in their spacious boutique dining room – accompanied by a glass of white wine while watching the sunset over bay.
At night, I found myself fascinated by the floating shops that go around offering locally made products; from local authentic dishes, fresh fruits and seafood to handicrafts that are produced mostly by using raw marine materials.
Ha Long Bay offered various interesting activities while I was there; climbing, biking among rice fields, monkey-watching, island stop-overs and swimming but I personally don't want to waste my time on something that I can do in other places.
Therefore, the next full-day, I spent on Kayaking and island visits where I could see some of the spectacular islets as well as their magnificent caves; the likes of which are almost impossible to be found anywhere else.
After having had a very sporty day around the 'Descending Dragon Bay', of course, gently pampering myself with the Violet Spa was the next logical thing to do. I spent my last sunset at Ha Long Bay being soothed by well-trained fingers, sipping on the Violet Dream cocktail and watching the sun going down between the dazzling limestone islets.
As I ended my great 3 days 2 nights trip to Ha Long Bay with the beautiful Halong Violet Junk, I asked myself when I would be going back and with whom would that be? I will definitely not go back by myself again as these are such romantic places to share with someone else!