In Bali waterfalls not only add dramatic elements to the lush tropical landscape but are also known for their healing properties. Gitgit is no exception, located in Bali's central highlands it offers a perfect day out to see the power of nature in a stunning natural setting.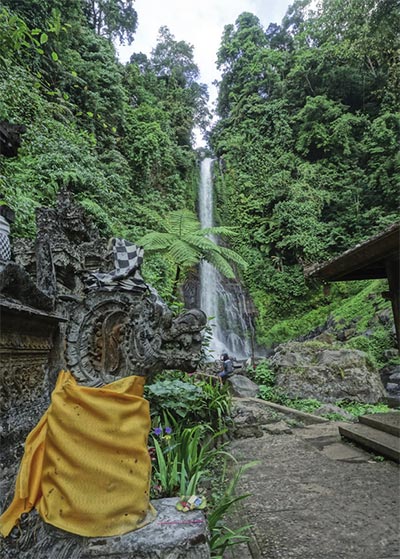 Tucked away from the hustle and bustle of the crowded tourist areas, Gitgit is known as one of the most famous waterfalls in Bali. Only a short 10km drive south of North Bali's main town of Singaraja, the falls are easily accessible from the main road connecting Bedugul and Singaraja.
To reach the falls, you wend your way along a path through the jungle and down the side of a ravine where you get your first glimpse of the 40m cascade as it tumbles into space and falls into a rocky pool at the bottom. Beside the falls is a small shrine that 'guards' the site offering peace and protection to those who come for a quick dip. The waterfall is referred to as the 'twin falls' by the locals owing to the way the water divides into two streams as it tumbles over the edge and, standing beneath, you feel the power of the water and the full force of nature.