Festive Season is approaching and Aman Resorts present festive offerings from the five Aman properties in Indonesia. From the jungle setting of Bali to the hidden paradise shores of Moyo Island, Indonesia's newest National Park, there is no better place to relax and celebrate with loved ones during this special season.
Inspired by solar and lunar rituals, the festive calendars at Aman properties in Indonesia are curated to honour beloved local holiday traditions such as diverse and ancient music as well as dance performances. New experiences are also introduced as guests prepare to welcome the new year such as forest bathing. As part of Aman's commitment to respect the nature and culture of where the resorts are located, starting this year, Aman Indonesia is eliminating fireworks displays from the festive itinerary.
Amankila
This festive season, Amankila offers an exciting series of cultural performances. As the sun sets on 2022, dine poolside on Balinese delicacies before six fire masters present a dazzling display of movement and coordination accompanied by live music. As the sun's first rays light up Mount Agung, experience forest bathing by leisurely walking into the forest of Amankila, to reconnect with nature through all the senses.
Amankila cares deeply about the rich culture of Bali and is actively involved in preserving and sharing traditions. From 16 December 2022 – 4 January, Amankila showcases a curated exhibition of folk art, fashion and high-quality craft by internationally recognised interior designer, Melati Danes. From 24–30 December, Tenganan artisan, Pak Punduh, will welcome guests in the afternoon and demonstrate how to draw on a dried palm leaf with an ancient technique passed through the generations.
Aman Villas at Nusa Dua
At Aman Villas at Nusa Dua, Santa will visit every villa on Christmas morning with children's gifts. Every celebratory meal, whether Christmas Eve dinner, lunch on Christmas Day or a New Year's Eve banquet, will be completely bespoke. Degustation menus will be personalised and entertainment, from live acoustic music to Balinese dance performances, can be arranged on request.
Celebrate the countdown to 2023 at the Beach Club, overlooking the Indian Ocean. As the clock strikes midnight, welcome the arrival of the New Year with a toast and set intentions for the year ahead, before returning to the comfort of your private villa.
Amandari
This festive season, Amandari will donate educational and practical gifts to children living in Kesayan Ikang Papa Orphanage. Guests are encouraged to bring joy into these children's lives by placing their own gifts inside the boxes available at the reception. On 24th December, guests are invited to join the chefs in preparing a traditional Balinese dish to be offered to the local villagers to enjoy for their own festive celebrations.
As Amandari's Christmas tree is lit, the children of Kedawatan Village dance to the gamelan orchestra and the aromas of the multi-course dinner mingle with the live music. For guests celebrating with families, child-friendly activities are on offer to keep little ones entertained, from cookie and gingerbread decorating to face painting and rice-paddy experience.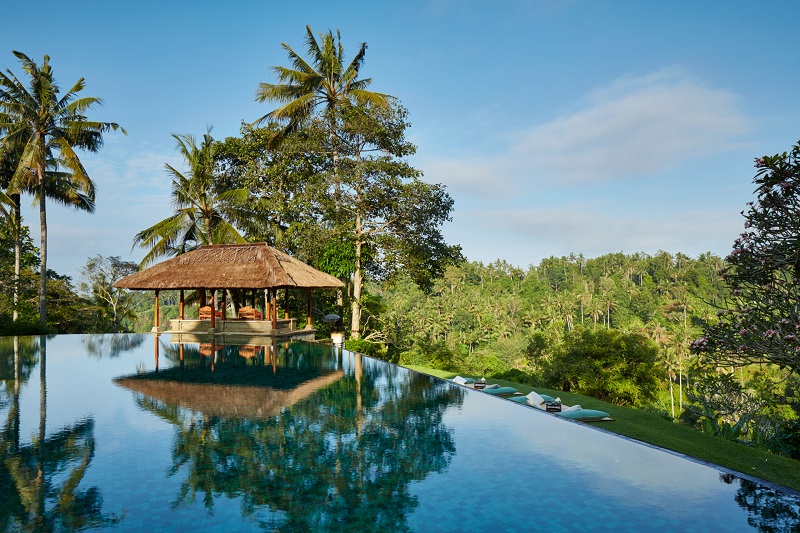 Amanjiwo
This year, anthropologist Patrick Vanhoebrouck will be in residence, offering informative lectures and acting as a personal guide to the region's many ancient temples. Celebrate the festive season by embarking on a seven-hour Journey Through Java train experience, from Jakarta to Yogyakarta, through spectacular scenery on 24thDecember.
Christmas Eve celebrations at Amanjiwo will begin in the Rotunda Bar with afternoon tea accompanied by a string quartet playing carols, followed by a feast prepared by Amanjiwo's Executive Chef. On the final day of 2022, experience a guided Ruwatan Javanese purification ritual beside the Progo River. Following this reflective ritual, tuck into a delicious picnic breakfast set up lesehan-style. New Year's Eve will take guests on a cultural journey, with a full programme of traditional dance performances accompanied by a five-course feast.
Amanwana
Together with the neighbouring island of Satonda, this year Moyo Island has been named Indonesia's 55th National Park ensuring that its stunning landscapes and diverse marine life is protected for generations to come. Offering a unique intimate setting surrounded by true wilderness, from the lush jungle vegetation, beautiful waterfalls and vibrant bird life to the exceptional snorkeling and scuba diving, visitors can enjoy unparalleled access to the natural wonders of the region.
This year's itinerary includes Indonesian street food, foraging and fish market lunches; sunset cocktail parties; beach barbeque dinners; and a New Year's Eve feast with live entertainment to welcome in 2023.