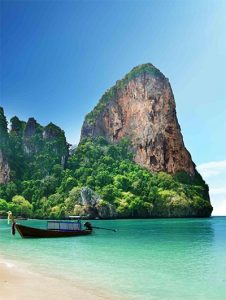 "In search of a relaxing destination surrounded by outstanding scenery Krabi may well be the answer to your needs.
After a business trip to Bangkok, Thailand's capital city, I decided to take a short trip to Krabi. It can be reached by plane in about an hour and, this being the second time I had been there, I knew exactly what to expect."
Lying on the mouth of the Krabi River where it flows into the Andaman Sea, Krabi is one of the largest provinces of Thailand. It is located on the mainland of Thailand but has about 20 islands and islets around it. These gorgeous islands are blessed with white sandy beaches and amazing sea cliffs, so it is no surprise that people flock there to unwind, swim in the crystal clear waters or take part in adventurous activities.
The first thing to do is to go island hopping to explore and see for yourself the range and breathtaking beauty of the nearby islands. A place of interest here is Maya Bay at Phi Phi Leh where Leo DiCaprio filmed "The Beach". Here beaches are backed by limestone cliffs and lots of quiet little coves can be found in this majestic area.
North of Phi Phi Don lie two small islands, Bamboo Island or Koh Mai Phai and Mosquito Island or Koh Yung. Koh Mai Phai is a tiny island surrounded by a lovely beach though, interestingly, the island is covered with casuarina trees, not a stick of bamboo is to be seen. In Koh Yung, limestone cliffs dominate the landscape, and this attractive island with its clear water, coral reef and rich marine life has become an exciting snorkelling site.
If you still have time, it is worth spending two nights at one of the lavish resorts on Koh Lanta which is actually made up of several islands with Koh Lanta Yai being the most famous. There are many world-class diving and snorkelling spots nearby or if you decide to do nothing, just soak in the sun while sipping on your favourite drinks.
Another place you should visit is Railay Beach, a peninsula located between Krabi town and Ao Nang that has four beaches to explore. The peninsula is cut-off from the mainland by elevated cliffs and the only way to get in and out is by boat. The peninsula features unspoiled beaches, a jungle-covered mountain coastline, a totally laidback ambience and many things to do. To enjoy the peace and tranquillity that Railay has to offer, there are walkways and paths leading to the bay and its beaches and through the jungle. A few hotels and resorts are available if you decide to stay.
Whatever your preference might be, Krabi has it all, from relaxing on beaches, swimming in the clear waters of a warm sea or for those who want to make this a more adventurous visit.