Marina Bay Sands will present 'Where Your Senses Feast' from 15 to 28 May, a two-week- long spirited gastronomic celebration featuring more than 30 dynamic events happening across the IR. From a first-ever Michelin-starred chef collaboration and an experiential dining affair set in Marquee Singapore, to a series of over 10 exciting in-restaurant specials, food lovers can excite their senses and fuel their curiosities at the gourmet escapade.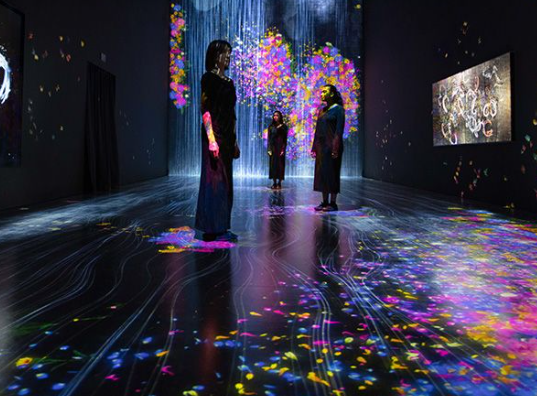 The festival begins with an unprecedented culinary experience at ArtScience Museum. Dining in the World of teamLab, hosted within the iconic exhibition, Future World: Where Art Meets Science, is set to launch on 17 May. Embark on a wondrous journey which starts with exquisite canapés inside the scintillating artwork, Crystal Universe, before continuing into the vibrant Transcending Boundaries gallery. This majestic installation space features a stunning six-metre-high interactive waterfall that cascades down the wall and onto the floor. Here, relish in a sumptuous four-course menu by KOMA Japanese Restaurant and Sushi Bar, harmoniously matched with course-by-course sake and wine pairings.
An exceptional Six Star Dinner is scheduled to commence on 19 and 20 May, jointly presented by guest Chef Stefan Stiller of Shanghainese fine dining restaurant Taian Table (three- star), culinary maestro Chef Tetsuya Wakuda of Waku Ghin (two-star), and Executive Chef Greg Bess of CUT by Wolfgang Puck (one-star). Available on two nights only, the dinner will combine the best of cuisines and entertainment, melding fashion-forward elements and contemporary performances with the impeccable prowess of the three culinary maestros. Staged in an innovative pop-up pavilion at the Event Plaza at Marina Bay Sands, the multisensorial dinner is set to raise the bar with state-of the art staging and audio-visual capabilities to deliver dynamic motion graphics and captivating projections.
Make a pit stop at various restaurants and bars across the IR, as over 10 establishments roll out unique experiences designed to indulge the palate and spark new discoveries for food and wine.
On 27 May, an Epicurean Journey at RISE will offer a spectacular buffet experience like no other, as four award-winning restaurants join forces to present their signature offerings. Savour the world's best cuisine at the one-day only culinary affair, featuring beef wellington and pecan pie by Bread Street Kitchen & Bar, homemade French charcuterie by db Bistro & Oyster Bar, exquisite dim sum by Mott 32 as well as a live pasta wheel station and gelato cart helmed by LAVO Italian Restaurant & Rooftop Bar and more.
Other restaurant highlights include: Black Tap's local craft beers on tap alongside its limited-time wagyu hot dog; Bread Street Kitchen & Bar's 'Gordon Ramsay Wine Club' featuring a selection of wine bottles for sale; CUT's exclusive red and white wines by Wolfgang Puck; db Bistro & Oyster Bar's 'Double Magnum Delight' by the glass; KOMA's 'World of Wagyu' trio starring the best cuts of Australia, Japan and USA; LAVO Party Brunch 'FESTA del VINO' edition (27 May); Renku Bar & Lounge's 'An Artisanal Journey at Renku' celebrating craft cheeses, curated wines and house made breads; Spago Bar & Lounge's afternoon rosé specials; The Bar at Waku Ghin's five-course 'Raising the Bar' set menu paired with handcrafted Japanese-style cocktails, wines and premium sakes; WAKUDA's 12-year Japanese whiskey flights; and Yardbird's premium bourbon highballs and lemonades.
For more details and exciting updates on 'Where Your Senses Feast', visit this website.