"The remarkable Indonesian and world-record breaking artist, Arya Trimni Putra is originally from Surabaya, East Java where he nurtured a successful career as a Psychologist. In 2001, Arya lost his mother and wife, and this devastating period changed the course of his life."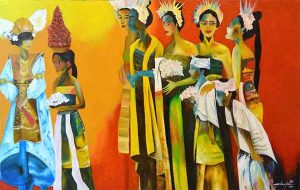 Overwhelmed with grief, friends presented Arya with blank canvases and encouraged him to paint as a way of expressing the rawness of his emotions. Unexpectedly, Arya's creations impressed many. Encouraged and excited, Arya chose to become a full-time artist with a commitment of giving back to the community. In early 2019, Arya completed the phenomenal feat of painting 1,000 abstract paintings in a period of 30 days, a record that is documented by the Indonesian World's Records Museum (MURI).
"Celebration of Life" is the result of a collaboration between InterContinental Bali Resorts and the artist and took its inspiration from the interconnections between art, a spirit of festivity, care for community and life experiences. This impressive art exhibition showcases around 30 outstanding artworks prepared within a period of 30 days and 10% from every painting purchased will be donated to the Panti Salam orphanage.
"Celebration of Life" was held from 2nd of December 2019 through to 7th of January 2020 and was displayed over extensive areas of the InterContinental Bali Resort. It offered guests a memorable InterContinental Life experience during the festive season while demonstrating art as an all-consuming passion that grants the artist the freedom to explore and challenge the realms of his/ her creativity.
The ArtVaganza theme is an elaborate concept inspired by the uniqueness and beauty of Bali and expresses the artist's current life with Bali as his second home. "I believe that art as a communication medium must express emotion. My passion is to explore subjects that portray all aspects of peoples lives, including their spirituality, feelings and the way they express themselves. I am committed to devoting the very best of myself to the project in the hope of inspiring the community with my spirit and energy During the exhibition, the resort organised fun painting workshops conducted by the world record-breaking artist and, at the end of the exhibition, 10% from every painting purchased was donated to Panti Salam orphanage.