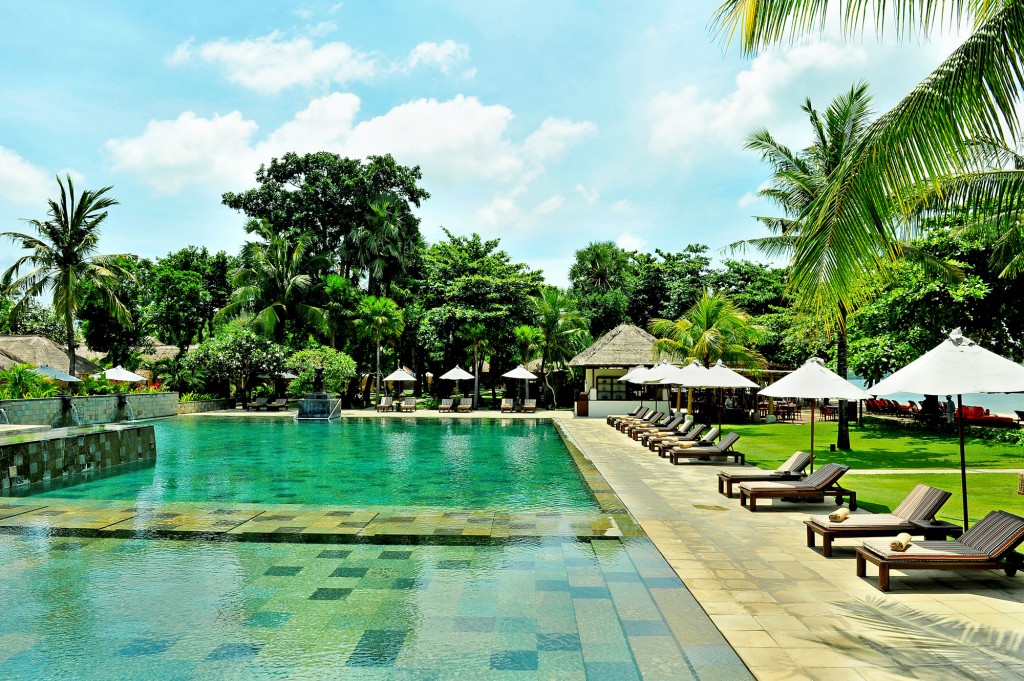 JIMBARAN BAY IS RENOWNED FOR ITS CALM, WARM WATERS AND IN THE SHELTER OF ITS WIDE HEART IS BELMOND JIMBARAN PURI. HERE TRADITIONAL BALINESE STYLE ARCHITECTURE AND LUSH GARDENS COMBINE TO MAKE THE HOTEL THE PERFECT PLACE TO REST AND UNWIND
Set within the tranquil tropical atmosphere of the Jimbaran bay area, South Bali, Belmond Puri Jimbaran provides a great setting for guests in search of exotic romance during their holiday. The hotel actually boasts a reputation as one of the most serene accommodation venues in Bali.
There are a total of 64 accommodation units at Belmond Jimbaran Puri, divided into 4 major types including Cottage Suites and Deluxe Pool Villa. Designed in typical Balinese village style the cottages provide a perfect sanctuary from the outside world. Interiors feature cool marble floors, sumptuous teak wood and high-beamed ceilings. All this is supported by international standard amenities to keep guests comfortable during their stay.
Hunger can be sated in style here as the hotel has two restaurants, each one with its own location advantage and specialty. The Nelayan restaurant, which is located on the white sandy beach of Jimbaran serves an extensive range of freshly caught fish and delicious Mediterranean-style cuisine inspired by rich local ingredients. The Tunjung restaurant overlooks lush lily ponds and across the sweeping shore with a spectacular buffet breakfast or à la Carte menu. For pampering relaxation, The Beach Spa's four outdoor, covered treatment areas are very romantic and perfect for couples, equipped with double whirlpool bath terrace. Including traditional Balinese and Indian Ayurvedic techniques, a full range of treatments is on offer here.